Contact Us
Contact us 7 days a week to handle your booking or enquiry. In addition to contacting us by phone during business hours, we are available 24/7 via email, fax and SMS. We understand that people often plan their jobs at all times of the day, so we offer several ways to contact us. Our online booking form allows you to obtain quotes, make bookings, book a bin swap over, pick up or just make a general enquiry.
Have a look at the 'Bins Sizes & Prices' and 'Waste Types' pages and if you have any questions, give us a call or send us an enquiry.
Please phone us on (07) 3821 6400 for enquiries and bookings or Book Online
Monday – Friday
Saturday
Sunday
6:00 am – 7:00 pm
6:00 am – 12:00 noon (limited delivery)
8:00 am – 12:00 noon (enquiries and bookings only)
Skip Bins Brisbane (07) 3821 6400
(07) 3821 6401
0412 981 665
Skips Bins Brisbane Group Pty Ltd is the parent company for the merged businesses of Handybin Waste Services and Big Bins.
PO Box 1562 Cleveland QLD 4163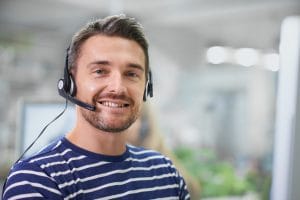 Contact Us – When we're Busy
There are periods where the high number of phone enquiries means that you may not be able to speak with us directly. If this should occur please leave a message on our answering machine or the mobile voicemail service. We will then return your call as soon as possible (usually within the hour). Remember that you can also contact us 24/7 via fax, sms and email.
We have put a lot of time and thought into providing customers with so many ways of contacting us. Please let us know if any one of these does not meet the high standard we expect from it as sometimes technology goes astray and until we become aware of it we cannot fix it.