Skip Bin, Big Bins, Mini Skips – What's the difference?
There is many different shapes and sizes of skip bins. Called by many different names, so we'll try to unravel and explain the types of bins we supply.
Skip bins, Mini Skips and Mini Bins are pretty much all the same. They are a steel bin designed and constructed for repeated rentals. The name for this type of bin is a Marrell bin or sometimes a 'Lift on, Lift off' bin. They lift on and off trucks with a Marrell lifter using chains.
The larger Hook bins are Roll on, Roll off bins (RORO). They load on and off the truck using a 'Hook Lift'. The hook on the lifting gear hooks under a bar in the A-Frame at the front of the bin. The bin is then lifted as the truck rolls under the bin onto the truck frame and locked into place.
Marrell Skip Bin (Mini-Skip)
The Handybins are the most popular of our skip bins. Our range of sizes is one of the most complete in Brisbane. Handybins are available in 2, 3, 4, 5, 6, 7, 8, & 9 cubic metres. With such a broad range we know that we will find the right bin size to match your job.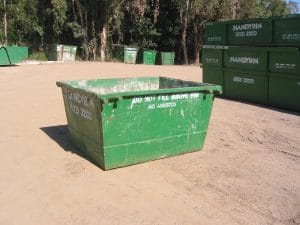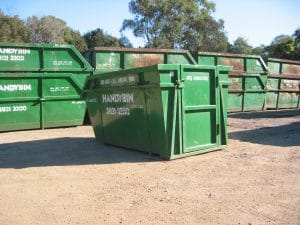 If you need a larger bin, you can also book one of our BIG BINS (12, 15, 20, 25 & 30 cubic metres).
Door Skip Bins – What a difference a door makes!
An innovative door design means – Easy loading
We were one of the first companies in Brisbane to introduce door access on a broader range of bin sizes. In particular, the Handybin range of 'lift-on, lift-off' bins. Load straight into the bin without a ramp which makes loading easier.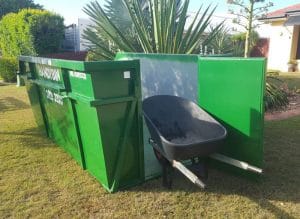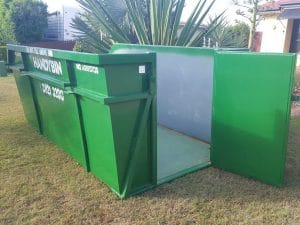 Wheelbarrow doors are available on all 6m, 7m 8m & 9m bins and some 4m & 5m bins. The door is 750 mm wide and will accommodate a large tradesman's wheelbarrow.
Hook-Lift Bin
Our Big Bin Hook-lift bins offer an alternative to Marrell skip bins. Ideal for large volumes of waste.
Our range of 'BIG BINS' come in 12m³, 15m³, 20m³, 25m³ & 30m³ capacity Bins. They are a Roll On-Roll Off style bin that has a rear opening tailgate which is 2.3 metres wide. These bins suit commercial & industrial situations. Ideal for large building, construction and demolition sites and bulk factory/business cleanups. For large, cleanups around homes, clubs, schools, factories etc.
Need to find out more?
Our 'Bin Sizes & Prices' and 'Waste Types' pages offer great information on bin sizes, prices, dimensions and capacity of our skip bin if you want to find out more about using skip bins for removing rubbish.
Contact Us – Phone at 3821 3200 for enquiries and bookings or Book Online