Did you know that Doors Ain't Doors?
Traditional skip bins never had a door or tailgate for easy access into the bin. This meant you had to lift over the sides. In most cases, this did not matter but this wasn't easy with concrete, rocks and soil. Large household and business items were also difficult to get into a bin.
At Handybin Waste Services, we were one of the first companies in Brisbane to introduce door access into our bin design. In particular, the Handybin range of 'lift-on, lift-off' bins making it easier to access the bin with larger and heavier items.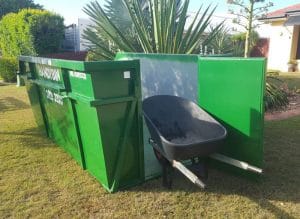 We have always tried to stay ahead of our competitors, so we continued to innovate to meet customers' needs. Our focus has been to remain at the forefront as a leader in our industry rather than a follower. We believe this has been part of our success for over 28 years.
Most company's door bin designs have a high edge or a ramp. You have to PUSH your heavy wheelbarrow UP the ramp or build one yourself, and then it DROPS into the bin.
Smart Design -Tailgates & Doors
Our well-thought-out design, which opens like a normal door, means you can roll the wheelbarrow STRAIGHT into the bin without pushing or having to build a ramp. There is a minimal height difference of 50mm, making loading your skip easy (and safer).
One of our early innovative designs was a drop-down tailgate. This allows customers who only have the driveway for a bin to be placed to wheelbarrow or walk straight into the bin. We also utilised a tread plate on the door to make the bin safer to walk on.
We always say we do things differently because we continue to look for new and innovative ways to stay ahead of the pack.
So what are we so excited about?
We've taken the tailgate design to a new level, and we are about to launch our REDESIGNED 6M Tailgate bins. The tailgate is a massive 1.300 metres wide. This will allow smaller machinery to enter the bin or larger items to be carried in.  Due to the size of the tailgate, we recommend a two-person lift (or one strong person) to drop the door down. Our drivers would be happy to help if required.
To find out more, contact us today – one of our friendly team is happy to provide advice, answer your questions, and organise your skip for your next small or big job.
Phone 3821 3200 to find out more