Traditional skip bins never had a door for easy access into the bin. This meant that rubbish needed to be lifted over the side. In most cases, this did not matter. However, in some cases, this was difficult with items such as concrete, rocks, soil, etc.
We were one of the first companies in Brisbane to introduce door access on a broader range of bin sizes, in particular, the Handybin range of 'lift-on, lift-off' bins. As a result, the design means that no ramp is needed to access the skip, making loading easier.
We have always tried to stay ahead of our competitors by innovating to meet the needs of customers. Our focus has been to remain at the forefront as a leader in our industry rather than a follower. We believe this has been part of our success over 30 years.
Which bin Sizes Have Easy Access Doors?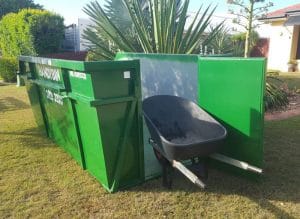 The door design is a swinging wheelbarrow door and is available on all 6m, 7m, 8m & 9m bins.  They are also available on some 4m & 5m bins. The door is 750 mm wide, which will accommodate a large tradesman's wheelbarrow. The doors are at one end of the bin (facing the road if we were to place it on your driveway). Only in certain circumstances are we able to turn them around (a charge may apply). We also have 6m tailgate bins (lift on-lift off bins) available for jobs that need rear-opening access. The tailgate acts as a ramp and sits less than 60 mm off the ground for easy loading. The width of the tailgate is 1.500 metres.
NOTE: The 4m & 5m skip bins with the door and the 6m with rear tailgates are very popular and may not always be available. If you make an online booking, we will confirm availability as soon as possible. If you need to know sooner, please contact our office on 3821 3200.
Want to know more about our bins with doors?